Title on Page
Gastroenterology
Digestive symptoms, such as nausea, abdominal pain and weight loss, can happen for many reasons. A gastroenterologist's job is to figure out what is going on and to bring relief. Gastroenterologists also make sure your digestive system is functioning well, supplying you with the nutrients you need.
Why Luminis Health
At Luminis Health, we pride ourselves in caring for patients close to their homes. We treat problems that occur in any part of the digestive system (biology class refresher: that includes the esophagus, stomach, gallbladder, pancreas, liver and intestines).
Gastroenterologists conduct colon cancer screenings and also diagnose and treat a number of conditions. They even have a fancy scope to see right into the digestive system. (Pretty cool, right?)
We go beyond that, providing treatments that aren't available in all hospitals. We're one of a select number of centers in the state to offer interventional gastroenterology, which means we diagnose and treat conditions using tiny instruments the doctor sends down the esophagus through a specialized tube. This technique avoids the risks of surgery and cutting through the skin, so patients recover faster.
If we find a problem that requires surgery or cancer care, we work closely with our colleagues in these fields. This ensures that patients get the best, most appropriate care right away.
When Should You See a Gastroenterologist?
The American Cancer Society recommends that all Americans get screened for colon cancer every 10 years, starting at age 45. While colonoscopies aren't "fun," they're not painful — and they usually take only 30 minutes or so. The best part is they allow your gastroenterologist to find growths that could turn into cancer and remove them before that happens. (Bye, bye, precancerous growths!)
Another reason to see a gastroenterologist is if you have symptoms of a digestive-system condition. Your doctor may refer you or you can call us directly. Signs of a digestive disorder include:
Abdominal pain.
Unexplained weight loss.
Bleeding in the stool or from the rectum.
Low iron levels.
Jaundice (yellowing of the skin, which indicates a liver problem).
Diarrhea.
Acid reflux (heartburn).
Pain as food moves down the esophagus.
A sensation of food getting 'stuck' in the esophagus.
Vomiting.
Conditions We Care for at Luminis Health Gastroenterology
At Luminis Health, our gastroenterology team can both diagnose and treat a wide range of digestive-health problems. (One-stop care, close to home. Pretty great, right?) We care for patients with the following conditions:
Stones in the bile ducts
Infections in the pancreas or bile ducts
Non-cancerous growths and cysts in various parts of the digestive system
Cancers, including esophageal cancer, gastric cancer, pancreatic cancer and colon cancer
Ulcerative colitis
Crohn's disease
Gastroesophageal reflux disease (GERD)
Gallstones
Liver disease
Chronic hepatitis C
Tests and Treatments We Offer
At Luminis Health, we offer common and routine procedures as well as advanced technologies. This means we can diagnose patients quickly. (We know that digestive symptoms can be unpleasant, to say the least!)
As a growing hospital network, we are attracting more doctors with expertise in innovative treatments that weren't available even a few years ago. That's good news — advances in treatment mean patients experience improved health with fewer side effects.
Here are some of the tests and treatments we offer at Luminis Heath Gastroenterology:
Colonoscopy, to screen for cancer or look for problems in the colon.
Upper endoscopy, in which the surgeon inserts a very thin, flexible tube down the throat. The tube has a camera on it to show the esophagus, stomach and more. Don't worry — this test isn't painful.
Medication management for a range of digestive-system problems.
Endoscopic retrograde cholangiopancreatography (ERCP, for short). This is an advanced procedure where the doctor inserts a dye into the pancreatic or bile ducts. Combined with x-ray technology, it allows the doctor to see any blockage, tumor or infection in the liver, gallbladder or pancreas.
Endoscopic ultrasound, which uses the same technology as a normal ultrasound but shows the digestive system in much more detail.
Lumen-apposing metal stents (LAMS), a new technology to connect different parts of the digestive system. This can be helpful in draining an infection in the pancreas, for example.
Other imaging tests, including MRI.
Our Provider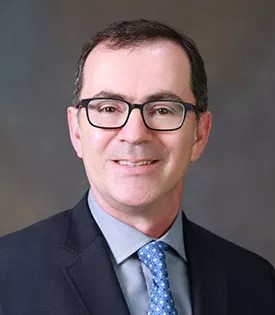 Dr. Fleisher is a board-certified gastroenterologist with more than 20 years of experience. Dr. Fleisher specializes in diseases of the pancreas and biliary systems, and the diagnosis and staging of digestive cancers including colon, rectum, pancreas, stomach, liver and esophagus. He completed his residency at the Johns Hopkins University / Sinai Hospital program in 1997.
Dr. Fleisher has been frequently recognized in the Top Doctor issue of Baltimore Magazine since 2012.