Every parent wants their child to be happy and healthy. When your child is sick or injured, we provide the specialized, age-appropriate care they need.
We offer skilled pediatrics teams in both pediatric emergency and pediatric inpatient care. Surgeons from both Children's National Medical Center and Johns Hopkins University are providers within our community.
This allows us to offer your child the care they would receive in a children's hospital, close to home.
Our units are child and family friendly, with special staff devoted to making the experience easier.
Image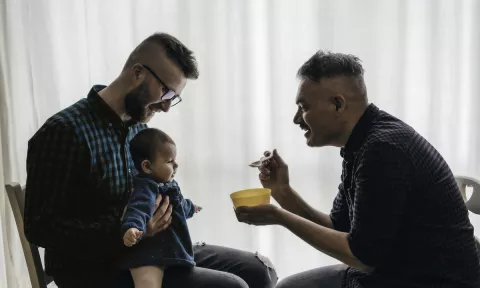 Why Choose Luminis Health
Our pediatric experts help provide a unique experience throughout your child's visit, including:
Nurse navigators: We're your family's personal point of contact during *your child's visit to the ER or if your child is admitted. We coordinate your child's care in the hospital and connect you with outpatient support as needed. We also answer all your questions about your child's diagnosis and treatment. Nurse navigators can provide emotional support and the educational resources you need.
Certified child life specialist*: With backgrounds in psychology and child development, these experts help kids to feel more secure in an unfamiliar environment. We use age-appropriate language and medical materials to help your child understand what to expect with their treatment and recovery. We also use therapeutic play to help your child cope with the stress, fear, and confusion that can occur during a hospital experience.
* These are services typically found at specialized pediatric hospitals, but we offer them for your family here, close to home.
Child Life Specialists at LHAAMC
Expert Emergency Care
LHAAMC has a pediatric ER staffed by pediatric specialists 24 hours a day, 7 days a week. Our pediatric ER is sensory friendly for patients with different needs.
LHDCMC pediatric emergency care and urgent care specialists from Children's National providing care 7 days a week from 1 pm to 11 pm.
Both ERs ensure families stay together during visits. We help to calm and comfort children and explain what they'll experience when they need to undergo procedures.
Compassionate Inpatient Care
When your child visits the hospital for pediatric surgery or other care, they won't be the youngest patient in a unit filled with adults. We have a child-friendly pediatric inpatient unit that is combined with LHAAMC's pediatric ER.
Every patient gets a private room with a private bathroom. This gives your family a space to connect, talk and heal.
When your child needs surgery, you can stay with them until the procedure is about to begin and see them again when they recover. Staff keeps you up to date on your child's progress while they're with the surgeon.
Family-Centered Care for Your Child
Our pediatric ERs and inpatient unit use a family-centered approach. Family-centered care reduces stress levels and improves communication with health care providers.
When your child is being treated, your presence should be a calming influence. We're trained to manage your child's medical, social and emotional needs, but nothing beats having a familiar hand to hold.
You can remain with your child through the entire ER visit and hear about their diagnosis and treatment plan.
While your child is an admitted patient, you're encouraged to help care for your child during their stay. This helps you better understand their condition and prepares you to care for your child at home.
Our Locations
For specialized pediatric emergency care, visit one of our pediatric emergency departments.