The prospect of having surgery can be daunting. You need to trust your medical team and know that they're using the latest methods for your procedure.
At Luminis Health, you can count on us to be at the forefront of advanced surgical techniques.
What Are Advanced Surgical Techniques?
Whether you need a hysterectomy, an appendectomy, or a heart valve repair, minimally invasive, advanced surgical techniques are often the best treatment option for many conditions.
In the past, having surgery often meant large incisions, an extended stay in the hospital, and long healing times. But now, many surgeries can be done with minimally invasive techniques. Your medical team can also devise a detailed recovery plan that leads to shorter hospital stays and faster healing.
Advanced surgical techniques include laparoscopic surgery, robotic surgery, and enhanced recovery after surgery (ERAS). By using these newer, high-tech methods, your doctors can have you up and around faster, with fewer complications and less pain.
Image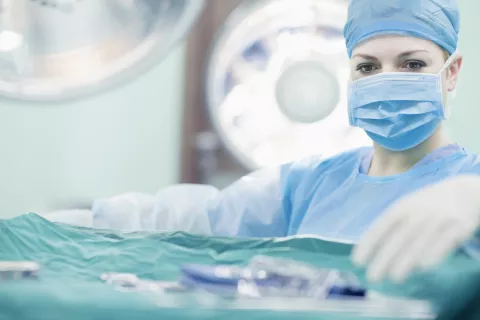 Why Choose Luminis Health for Advanced Surgical Techniques?
You can feel confident about your surgery at Luminis Health. Here's why.
Whenever possible, we use minimally invasive techniques. If there's an option for a minimally invasive procedure, we'll explain the pros and cons to you.
Our doctors are some of the most highly trained surgeons in the world — and they receive continuing education on the latest surgical techniques.
We're highly experienced. For instance, we have the highest volume of robotic abdominal wall reconstruction surgeries in the state. Our head of general surgery has more than 30 years of experience with advanced laparoscopy and is known as one of the pioneers in the field.
Your surgical team will follow up with you. Our ERAS programs help ensure a smooth transition from surgery to recovery at home. People who have an ERAS plan may be able to resume normal activities more quickly, feel less tired, and take fewer days off work.
Types of Advanced Surgical Techniques We Offer
At Luminis Health, we offer different types of advanced surgical techniques. You can talk to your doctor about what kind of procedures might be right for you. They are:
A minimally invasive approach. It's an alternative to traditional open surgery. Your doctor will make small incisions to insert surgical tools and a tiny camera. Laparoscopic surgery is more precise than open surgery because with the aid of the camera, your doctor can get to hard-to-reach places.
Another form of minimally invasive surgery that uses a robot (controlled by a surgeon standing at a console) to perform surgical operations. With robotic surgery, the doctor can reach the highest level of dexterity. The robotic arm is more flexible than a human hand and can reach parts of the body that were previously inaccessible. At Luminis Health, we use the da Vinci® Robotic Surgical System, the most advanced state-of-the-art surgical platform.
A detailed plan for your care before, during, and after surgery to ensure the best experience and outcomes. Before your procedure, you'll meet with a surgeon or nurse for tips on being as healthy as possible leading up to the surgery. ERAS includes monitoring the careful use of opioid pain relievers and epidurals during surgery. After surgery, your medical team will get you up and moving to promote healing. You'll be allowed to eat, have tubes and drains removed, and move from IV to oral pain meds as quickly as possible.
Benefits of Advanced Surgical Techniques
There are many reasons to opt for minimally invasive surgeries and other advanced surgical techniques. For instance:
The procedures are more precise. Minimally invasive surgery, whether robotic or laparoscopic, targets the abnormality without harming healthy tissue and organs.
There's less blood loss and a lower risk of infection.
Many of our surgeries are done on an outpatient basis, meaning you may be able to go home the same day.
Once you're at home, you're more likely to recover faster and feel less pain than you would with traditional surgery. You'll also have less scarring.